Steven L. Hoskin
Historical Autographs

Buying and selling American Historical Autographs, Documents, Letters and Manuscripts. Specializing in U.S. Presidents & First Ladies, along with Revolutionary War, Civil War, Black History, Business, and the Arts & Sciences. Quality consignments are accepted.
Upcoming Shows
Florida Antiquarian Book Fair
St. Petersburg, FL
April 26-28, 2019

Seattle Antiquarian Book Fair
Seattle, WA
October 12 & 13, 2019
---
---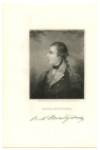 MONTGOMERY, RICHARD (1738-75) American Revolutionary War, Continental Army Major General; Killed-in-Action during the Battle of Quebec City - December 31, 1775
Original Engraving, 6 ¼" x 9 ½" overall, with a printed facsimile signature beneath a 3 ½" x 4 ½" image of Montgomery in military uniform, imprinted "Engraved by E. MacKenzie, from the Painting by C.W. Peale in the Philadelphia Museum."
Lightly and evenly toned, with a few superficial stains.
$25.00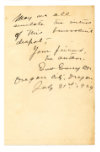 DYE, EVA EMERY (1855-1947)
American Historian, Suffragist, and Writer; Best known as the author of "Conquest: The True Story of Lewis & Clark"
Autograph Note Signed, 4 ¾"x 7 ¼", undoubtedly a page from her book, "McLoughlin and Old Oregon." Published in 1900, the book portrayed and romanticized the life of Dr. John McLoughlin, early Oregon settler later known as "The Father of Oregon," whose general store in Oregon City was the last stop on the Oregon Trail.
"May we all emulate the virtues of this benevolent despot. Your friend, the author, Eva Emery Dye. Oregon City, Oregon, July 31, 1924."
The page is lightly and evenly toned, with minor staining in the margins and at the edges.
$95.00
Sale! $65.00

CORNING, ERASTUS (1794-1872)
American Industrialist – New York Central Railroad Founder; Democratic U.S. Congressman – 1857-59 & 1861-63
Autograph Letter Signed, 5" x 8", as U.S. Congressman from New York, responding to a request for the appointment of the former U.S. Minister to Ecuador, Van Brugh Livingston, from William W. Campbell, a prominent New York judge and former member of the U.S. House of Representatives, and promising to pursue the matter directly to President James Buchanan.

"Washington, Dec. 18, 1858. W.W. Campbell, Esq., My dear Sir, I duly rec[eive]d your favor of the 25th ult[imo] requesting my aid in obtaining the appointment of Doct[or] Livingston as consul at La Union San Salvador. I have seen the Dep[ut]y Sec[retar]y of State who will advance to the President to make the appointment. I hope to see the President on Monday when I trust I shall be able to bring the matter to a point. Yours Very Respectfully, Erastus Corning."

Several light folds and a light diagonal crease at lower left, well away from text.
$275.00